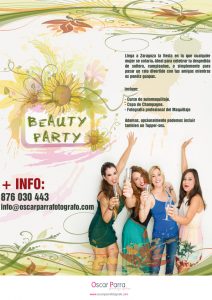 Oscar Parra Photographer in collaboration with the best makeup artists in Zaragoza, brings the most awaited party: The Beauty Party, a space where you can enjoy an afternoon of fun with your friends where, while you share a glass of champagne, you can get pretty learning makeup .

Treat yourself, spend some time at the beauty party with us before going out to party, give your friend an unforgettable moment you will never forget, or come before leaving bachelorette party. Without any doubt it will be an unforgettable moment.
What is the Beauty Party?
The Beauty Party is a party that we organize for your birthday, farewell, or weekend getaway with your group of friends, where one or several professional makeup artists specialized in the world of fashion will teach you their best tricks and above all to improve your Self-makeup technique in a fun way and above all, surrounded by friends.
But not only that, also as in any party, in the beauty party, we take care of the drink, of something to nibble, of music to have a good atmosphere in the course, etc. But we can also prepare anything you ask us: if you are more daring, a sex tapper, some detention by some perverse police … (you know …)
And to end the beauty party, nothing better than a photo taken by the professional photographer Oscar Parra, so you have a good memory of makeup and a group photo where you will all look beautiful and that will allow you to have a memory of friends for all the lifetime.
As Barney Stinson himself would say: «LE GEN DA RY».
How many people can we go to the Beauty Party?
As the Beauty Party is made to measure, we do not put people tops, but if we ask to be notified in advance to define the place, how many make-up artists have to come, and above all so that no one runs out of drinks and snacks are in their just measure.
Where do we make the Beauty Party?
The place where we will make the Beauty Party will depend on how many you are, but it will also depend if you want a more exclusive place, so it would be best if you call us and tell us which is your favorite beauty party.
We take care of getting what you want, how about a VIP area in a charming and private place ?, or in a private party room … You command!
How do I sign up for the beauty party?
To sign up, you can contact us at 876 030 443 (during business hours), or contact via email at [email protected], indicating, how many people are you going to participate, if you prefer a specific location, or some specific drink, or if you want some special snacks, cake, cookies, etc.
What are you waiting for? Fun is guaranteed!